Congratulations to our 2017 Top Docs!
Retina Consultants of Nevada Honored with Four Top Doctors for 2017 Las Vegas Retinal Specialists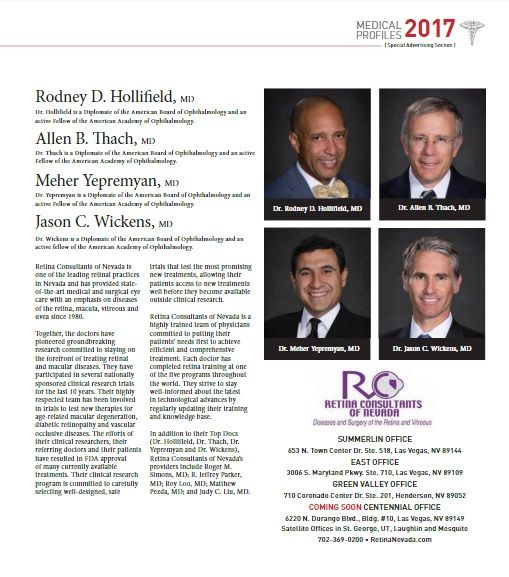 LAS VEGAS, NV - February 21, 2017 - Retina Consultants of Nevada earns Top Doctors list for 2017 by Castle Connolly Medical Ltd., an independent research and information company.. The doctors were nominated by their peers in an extensive survey process and reviewed by Castle Connolly's physician-directed research team. Four retina physicians from Retina Consultants of Nevada were named as 2017s Top Doctor - Dr. Rodney Hollifield MD, Dr. Allen B Thach MD, Dr. Meher Yepremyan MD and Dr. Jason Wickens MD. All of the 2017 Top Docs of Las Vegas doctors in different specialties are compiled by Castle Connolly Medical and will be the highlight issue for Vegas Seven magazine's February publication.
Check them out in the Vegas Seven magazine